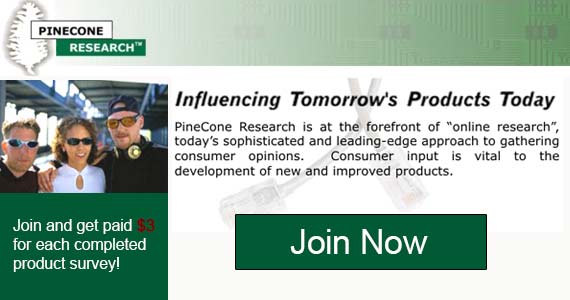 Do you like earning easy money? If you do you should check out Pinecone Surveys. Pinecone Surveys use to be quite hard to register with. When they had openings they would put banners up on popular websites, but they were never there long.
Here is a direct link to register with Pinecone today!
No Longer Live
This time around, Pinecone is looking for applicants that do
at least 50%
of the grocery shopping in their household.
Tip: The link may come up in french. There is a "click here for English" link near the top center of the Pinecone registration page
I have personally been participating in Pinecone surveys for several years so I can tell you that they do pay! It's a pretty nice feeling heading to the bank with several cheques. The bank teller even asked me how to register with Pinecone LOL!
Once you register they will send you survey invites via email. For each survey completed they will send you a $3 cheque.
Personally, surveys I had answered are between 10 and 20 minutes long. It's a really easy way to make a bit of money while watching TV at night.